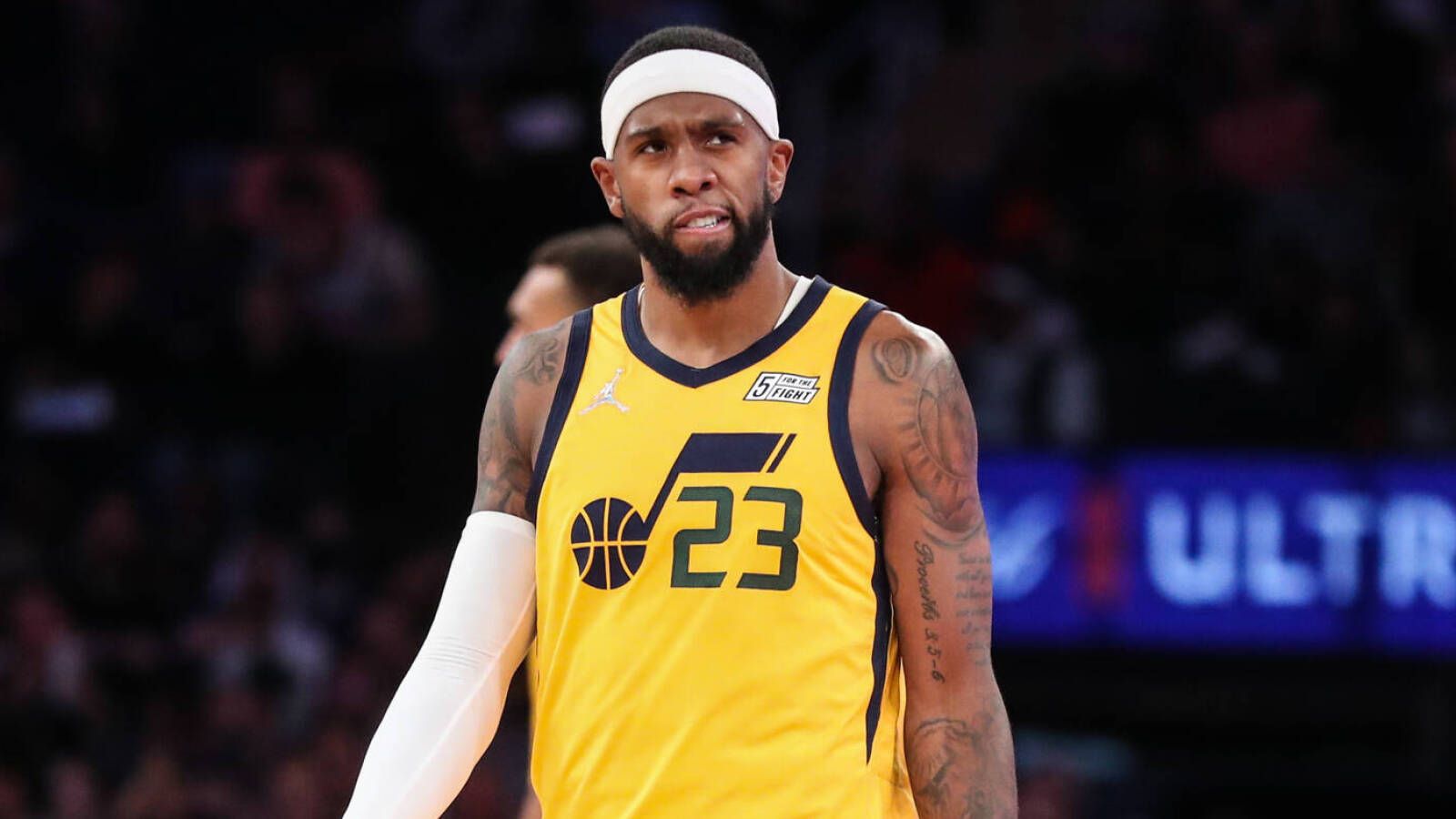 O'Neale is a solid rebounder, pulling down 5.7 boards in 30.6 MPG over that same time period. He also has an uncanny knack for being in the right place at the right time, which is something that doesn't show up in statistics but is noticeable if you're specifically tracking a player's movements.
Much of O'Neale's value for the Jazz was tied into his willingness to do the dirty work. He was frequently tasked with defending the opposing team's best non-center, and while his results in that area were mixed, it's hard not to admire his determination.
O'Neale has been an extremely durable player since 2018, only missing seven total games over the last four seasons, which must have been an attractive attribute for the Nets, given all the games their key players have missed the past few years. He is also on a reasonable contract, earning $9.2M in 2022-23, with his $9.5M salary for '23-24 partially guaranteed for $2.5M.
The 29-year-old's NBA success is a testament to his self-awareness – O'Neale knows exactly who he is as a player, and he does not try to do things he's not capable of, as he told Brian Lewis of The New York Post a couple of weeks ago.
"(I'll help) any way I can," he said. "Just try to be the guy I've been doing, not be anyone I'm not. But I know what got me here and what's going to keep me being here, so just learning any way I can and doing what I got to do offensively and defensively."
Having said all that, out of all the trades made this offseason, I found this to be the most perplexing one, at least from Brooklyn's side of things.
Watching O'Neale get repeatedly roasted by Jalen Brunson in Utah's first-round loss to Dallas made it clear that his defense has fallen off a bit. It's not like O'Neale was ever a lockdown defender to begin with, either. He's an undersized forward at 6'4″ and isn't the NBA's quickest player, but he uses his length (6'9″ wingspan) and strength (226 pounds) well to do his best to deter opponents.
What he lacked in physical attributes O'Neale always made up for with determined effort and toughness. He rarely had much help on the perimeter, as Utah's defenses were always anchored by the interior presence of three-time Defensive Player of the Year Rudy Gobert.
What makes this deal especially confusing to me is the Nets already had a better all-around player in Bruce Brown and reportedly didn't even make him an offer in free agency – he joined the Nuggets via the taxpayer mid-level exception. O'Neale, on the other hand, is older than Brown and will make more money than him over the next couple of seasons, although Brown's deal is fully guaranteed in '23/24 and O'Neale's isn't.
While O'Neale is a much more proven shooter than Brown and has more experience playing the two forward spots, Brown is more athletic with a strong, stout build, so it's not like he'd be a liability defending up a position or two – he did it a lot last season as is.
Maybe the Nets like O'Neale's veteran presence and think he can help turn around the team's culture, which general manager Sean Marks has said would be a point of emphasis going forward. They certainly must have been drawn to his playoff experience, even if the Jazz failed to advance past the second round during O'Neale's tenure.
I still believe O'Neale is a solid player on a fair contract with bounce-back potential, and a likely late first-round pick in 2023 doesn't do anything in the present for a team that is trying to win the championship, so in that sense it is an easily digestible win-now move. I am just not sure that a player coming off a down season in the area that he's built his reputation (defense) on was a worthwhile gamble with that asset – we will see how it plays out next season.
On the other hand, I did like the Nets' free agency moves of taking fliers on T.J. Warren and Edmond Sumner, both of whom missed all of last season while recovering from injuries, but are reportedly fully healthy. I also like the collection of young players the Nets have assembled with their recent draft picks, and Marks and the front office have consistently found talent in the rough, so maybe O'Neale will be another one, even if the circumstances are a lot different.
The Jazz's perspective:
Utah's reasoning for making the move was a lot easier to understand.
Plain and simple, the Jazz had topped out. Last year's club disappointed on many levels. Utah was still a good team, don't get me wrong – making the playoffs every season is no easy task, no matter how some might try to downplay it.
But the writing was on the wall. Being in the luxury tax with no draft equity and no real young players to build around sans Donovan Mitchell (who is on a maximum-salary contract and has his share of flaws) made the Jazz's roster construction untenable.
You can only run things back so many times before everyone realizes that your window has closed. Perhaps that happened in 2021, when the Jazz posted an NBA-best 52-20 record in the regular season, only fall to the Clippers in the second round of the playoffs after blowing a 2-0 series lead and after Kawhi Leonard tore his ACL in Game 4 of the series (they also blew a 22-point halftime lead in Game 6, the series clincher).
That deflating series loss had a detrimental impact on the Jazz in multiple ways that carried over into last season, when they imploded late in games by blowing several large leads in fourth quarters. They had one of the best net ratings in the league – third overall – despite their solid but unspectacular record of 49-33, and when they were rolling, they were really good. But there was never a sense that things would turn things around after a midseason slump that was unfortunately caused, at least in part, by COVID-19 absences.
Which leads us back to trading O'Neale for a 2023 first-rounder. Change was inevitable for the Jazz. O'Neale being dealt just happened to be the first domino to topple.
NBA teams are always looking for "3-and-D" players that do not need the ball to be effective to supplement star players. O'Neale fits that mold when he's playing well.
President Danny Ainge is a notoriously difficult negotiator, but Utah's asking price for O'Neale was obviously any type of first-round pick, perhaps for 2023, perhaps not, and Brooklyn met that asking price. Gaining a decent draft asset for a player coming off a down season defensively is definitely a good return for the Jazz.