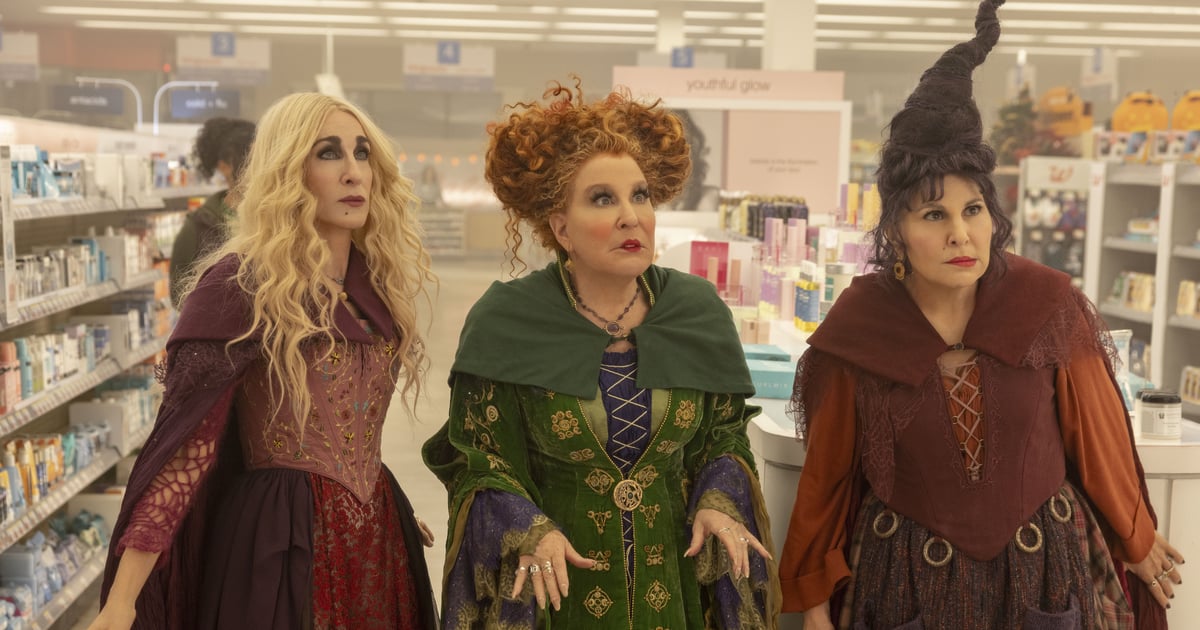 Amok, amok, amok! Something wicked this way comes in the form of a "Hocus Pocus" sequel. The original film premiered back in 1993, but now, almost 30 years later, we're heading back to Salem for more Halloween hijinks. On Sept. 9 at D23 Expo, Disney shared a new trailer for the movie, which revealed some things about the plot. A trio of girls living in Salem get a candle from the proprietor of their local witchy store. When they light it, trying to awaken their own magic powers, they instead bring back the Sanderson Sisters, played by Bette Midler, Sarah Jessica Parker, and Kathy Najimy. The sisters soon plunge Salem into chaos once again.
On Sept. 14, a new clip was released, showing the sisters hilariously taking to the sky using whatever they can find in a store. Sarah uses a Swiffer, while Mary finds a robotic vacuum cleaner. Meanwhile, Winifred sticks to the traditional broom. "Amok, amok, amok!" they yell as they head into the sky.
And if two "Hocus Pocus" movies aren't enough, don't worry: Midler told Entertainment Weekly that she would happily do a third. "I'm envious of other actors who have franchises, and I was hoping for a sequel to 'First Wives Club,' but we never got that," she told the outlet on Sept. 27. "After 30 years with no sequel to 'Hocus Pocus,' I've always been envious of people who get to do their favorite character more than once. The fact that we got to do this finally, after 30 years of promoting the idea, I'm glad we got to do it. I'd love to have a franchise — especially a character I love playing." Najimy says she thinks the second installment ends it in the right place, while Parker suggested another Sanderson sister story could be told through animation.
Read on for everything we know about "Hocus Pocus 2."
"Hocus Pocus

2″ Clip
"Hocus Pocus

2″ Trailer #2
"Hocus Pocus

2″ Trailer #1
"Hocus Pocus

2″ Trailer Reaction
"Hocus Pocus

2″ Cast

In addition to Midler, Parker, and Najimy returning as the Sanderson Sisters, the film stars Whitney Peak, Lilia Buckingham, and Belissa Escobedo as the three teenage girls who set the movie's events into motion. The cast also includes Doug Jones (returning as Billy Butcherson), Hannah Waddingham, Tony Hale, Sam Richardson, Juju Brener, Froy Gutierrez, Taylor Paige Henderson, and Nina Kitchen.
"Hocus Pocus 2" Release Date
"Hocus Pocus 2" will be released on Disney+ on Sept. 30.
"Hocus Pocus 2" Plot
According to Disney+'s official synopsis from May, the sequel picks up 29 years after the first movie as "three young women accidentally bring the Sanderson Sisters back to modern day Salem and must figure out how to stop the child-hungry witches from wreaking a new kind of havoc on the world."
"Hocus Pocus 2" Location
The 1993 cult classic famously takes place in Salem, but thanks to several locals who caught glimpses of production, we know the sequel was filmed in Rhode Island. Rhode Island Governor Daniel J. McKee previously confirmed the news in a statement that read: "On behalf of Rhode Island, I am proud and honored that again our beautiful state, with its unique scenery, landscapes and local talent, will be the backdrop for a major motion picture. Film and TV productions such as 'Hocus Pocus 2' have positive impacts on our businesses and move our economy in the right direction."
"Hocus Pocus 2" Poster