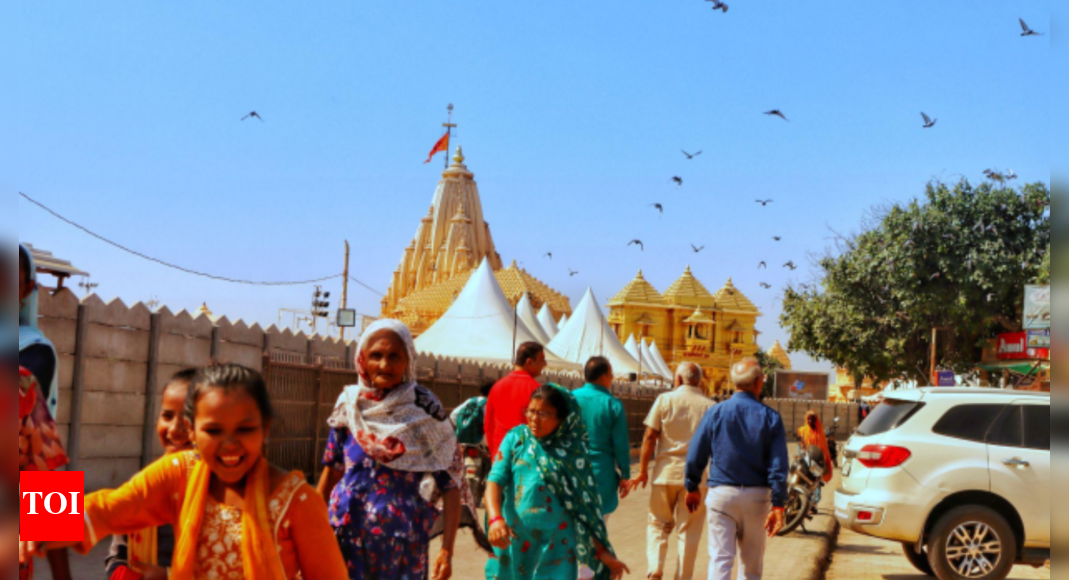 Being home to one of the country's most sacred pilgrimage sites for Hindus – the Somnath temple, the little town is no stranger to large crowds.
Somnath-Veraval assembly seat is a battle of prestige for the BJP. PM Modi, Amit Shah and senior
BJP
leader,
LK Advani
are among the trustees of the Somnath temple trust.
In the 1990s, BJP veteran LK Advani took out the Rath Yatra from Somnath.
In 2007, it won three out of four assembly seats in Gir Somnath region, followed by only one in 2012, and lost all four seats in 2017 in the region, despite being the ruling party.
The Somnath-Veraval seat was won by Vimalbhai Chudasama of the Congress by a margin of over 20,000 votes. Congress has fielded its incumbent candidate, Vimalbhai Chudasma this time too. Vimalbhai is a prominent Koli leader.
The constituency has about 40,000 Koli voters. Congress will also be banking upon the 40,000 Muslim voters in the constituency.
The BJP on the other hand, has brought in a fresh face this time. It has fielded Mansingh Parmar. Parmar is from the Karadiya community, which is estimated to be about 20,000 voters. Parmar believes the party missed out on "community factor" last time, which is why it lost. However, this time they will win for sure since the party has factored-in different castes while giving tickets.
PM Modi started the Saurashtra campaign with a visit to the Somnath temple on Sunday. He went to address the rally at Sadbhavna ground near the temple.
PM Modi's rally gives an indication of what BJP's thinking for this seat. By all indications, it is attempting to leverage the popularity of PM Modi and has gone back on its 'son-of-the-soil' campaign strategy which the BJP tried in the last assembly elections.
However, visiting the Somnath-Veraval seat, one can't miss the voter fatigue.
There are very few posters in the city. The energy and enthusiasm that one expects from a place of such religious importance is missing. The temple city is clean with adequate infrastructure for tourists. One can spend the whole day around the temple (the temple is adjoining the beach). There aren't many local issues as such. The economy revolves around tourism.
Sandeepbhai Prajapati, a tea-stall owner, credits the Somnath temple for the town's livelihood. The town is crowded with people who run fast-food joints, restaurants, and guesthouses. Thanks to tourism, anyone can find some type of employment in Somnath.
However, millennials aspiring for a better lifestyle tend to look for high income jobs, which are hard to come by here.
Kewal Morbeeya, a student of computer application, explains why the better-educated, younger generation struggles to find employment in Somnath. Morbeeya is currently doing his bachelors from university in Ahmedabad. Since colleges in or around the city of Somnath are not as good, he had to migrate to Ahmedabad.
He agrees that Somnath is a good place for small trades including tea-shop owners, electricians and jobs in construction, but he sees no relevant employment opportunities for a BCA graduate.
Radha's husband works as a security guard. He has received a daily wage hike of Rs 150. With this increase, his wages have increased to Rs 450 a day. She credits this to the blessings of Somnath dada. However, living on this wage is still tough and the gas and electricity bills still sting. Radha says both bills add up to between Rs 1,700 and Rs 2,000 per month.
It will be difficult for the BJP to woo young voters who are fed up with unemployment and inflation. People do talk about these issues after much probing, however, not many are willing to say it on camera. Although AAP has also fielded its candidate from this seat, it is currently seen as an also-ran.
People, especially the young voters are curious to know about AAP, how much this will translate into actual votes, remains to be seen.
Congress, on the other hand is relying on popularity and caste arithmetic, which appears to be in its favour.
Somnath-Veraval has over 2.4 lakh voters and the voting for the Somnath-Veraval constituency will be held on December 1. The counting of votes will take place on December 8.