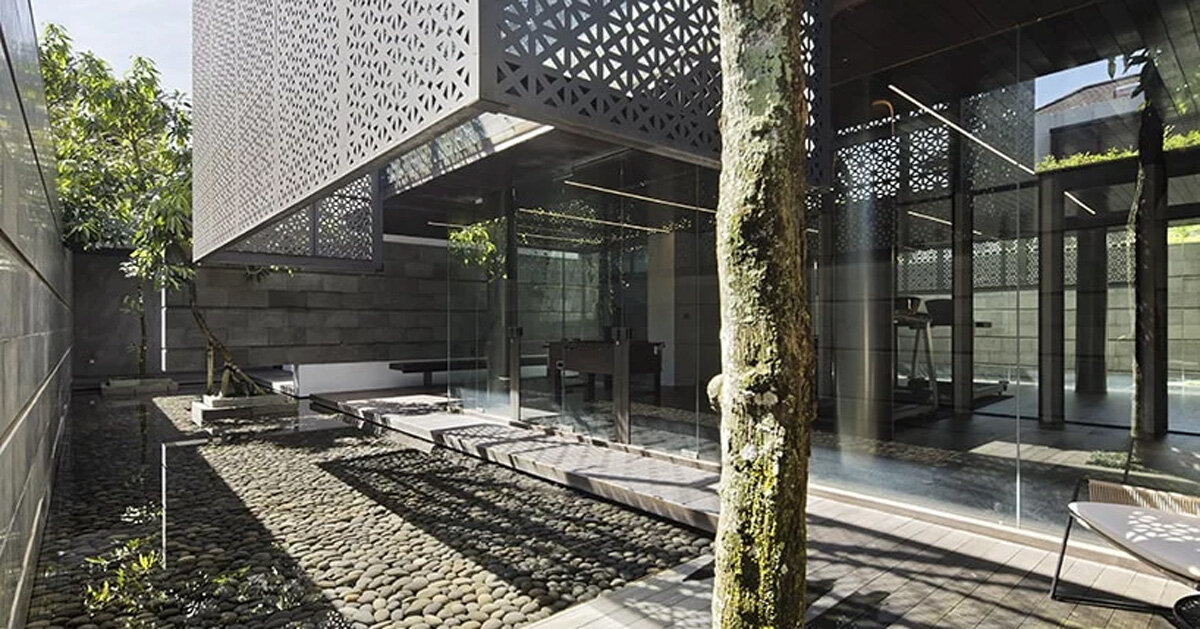 traversal cut defines 'golfn' residence to face a golf course
GeTs Architects has designed a contemporary residence partially cladded with perforated laser-cut aluminum panels in Bogor, Indonesia. Titled 'GolFN', the dwelling is characterized by its patterned laser-cut screen, which protects occupants from harsh sunlight and heavy rainfall, while also allowing them to enjoy views of the surrounding golf field and Mount Salak. 
The owner chose the site to reflect on his youth and memories of his Saudi Arabian home at the time. The golf course takes on the appearance of the well-known sand dunes desert setting; they have a similar gentle slope but come in various colors.

'golfn' sits in front of the golf course and faces mount Salak, Indonesia
all images courtesy of GeTs Architects
ramp with a protective laser-cut volume leads to the entrance
Located on the right side of the house an open ramp with a semi-opaque laser-cut volume above leads to the entrance of the residence. As a result of the east-facing building, the studio GeTs Architects combined vertical and horizontal patterned aluminum shading panels to protect the main entrance from sunlight, and simultaneously functioning as a barrier against the heavy raindrops in Bogor, Indonesia. 
It was decided that there should be leveling provided with a ramp and lift at one continuous level in order to allow the clients to age happily in this home. Therefore, the ramp creates an atmosphere of a notable entrance while walking through it. It blends the internal external spaces, as the owner who is fond of the rain prefers to leave the cladding with no glass roof to allow the rain to seep through softly.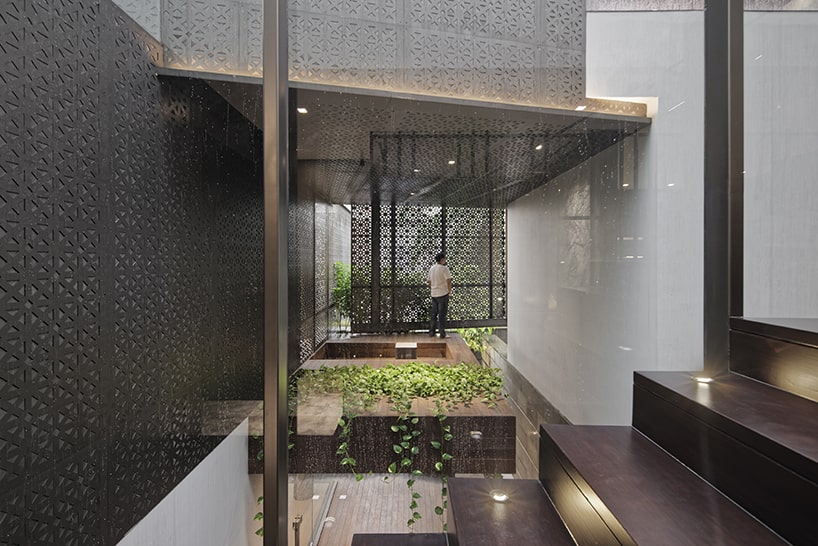 material and textural differences within the space due the traversal aluminum block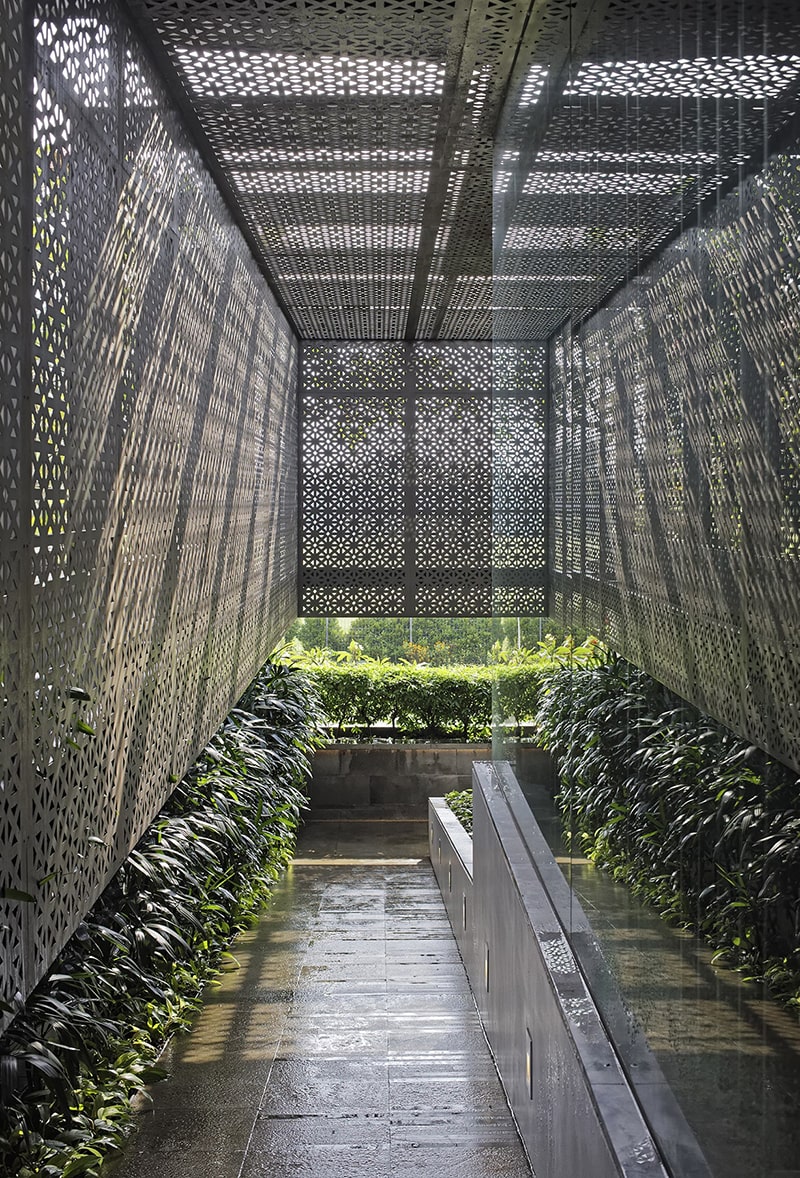 laser-cut aluminum volume with geometric patterns is an overhead construction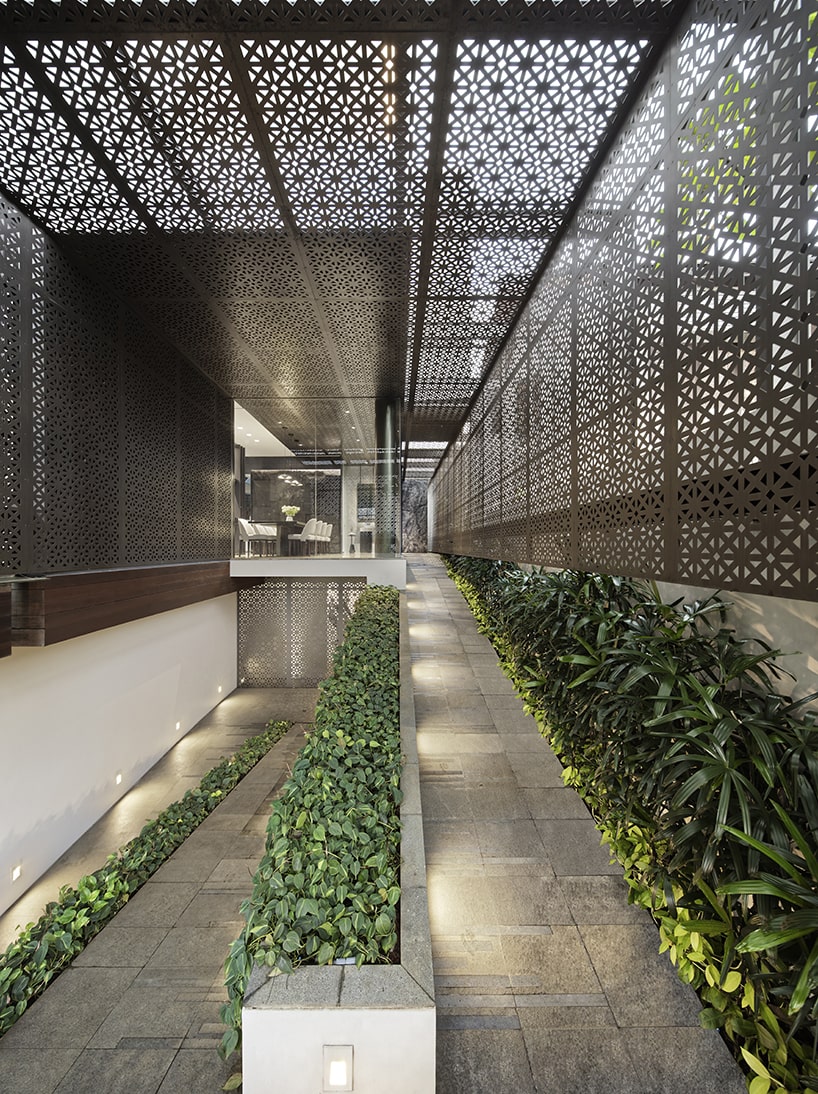 aluminum volume limits the entry strong sunlight and rain