'I do you' by monica bonvicini
Monica Bonvicini's sculptural interventions take over and illuminate the Neue Nationalgalerie's space, redefining the traditionally male-dominated power of architecture. Her provocative artworks, including site-specific installations, sculptural objects, and performative and sound pieces, examine the link between gender roles, feminism and architecture, as well as question the role of the institution. Through her practice, the Berlin-based artist is focused on the cliches and hidden ideologies around gender-specific classifications in Western modernism.
designboom had the chance to attend the opening at the iconic building designed by Mies van der Rohe, and capture a feminist appropriation of the space, which Monica has fundamentally changed by means of architectural interventions. Deliberately kept vague, the title can also be perceived as 'I want you', opening up different perspectives for the audience to experience. 

Monica Bonvicini, Upper Floor, 2022, Ausstellungsansicht Neue Nationalgalerie,
25.11.2022-30.4.2023Courtesy the artist, Tanya Bonakdar Gallery, Galleria Raffaella Cortese,
Galerie Peter Kilchmann, Galerie KrinzingerCopyright the artist, VG-Bild Kunst, Bonn, 2022, /
Nationalgalerie, Staatliche Museen zu Berlin / Jens Ziehe
full header video ©designboom
A large-scale pedestal supports an accessible platform and enlarges the exhibition hall, offering new perspectives to the audience from an elevated vantage point. A huge mirrored wall wraps the structure, forcing guests to confront themselves and their presence in the space. The exhibition also accommodates a selection of pieces from Monica Bonvicini's oeuvre from the 1990s to the present and occupies a completely redefined exhibition environment.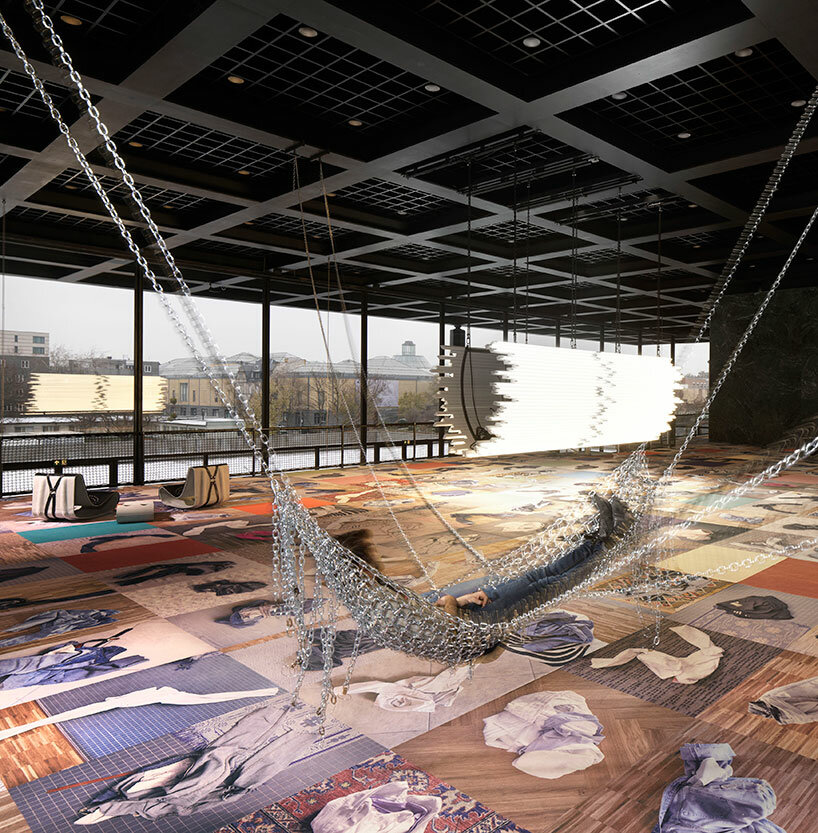 Monica Bonvicini, Breach of Decor, 2020-2022, Ausstellungsansicht Neue Nationalgalerie
A series of new light works, consisting of LED neon tubes handwoven with electrical cables, illuminate a corner of the hall as a sculptural structure. The object 'Blind Shot – Wallsucker' (2005) from the Nationalgalerie's collection is also part of the exhibition: a drill colored with black spray paint that starts moving loudly every five minutes above the heads of the visitors. Also on view is the early work '2 Tonnen Alte Nationalgalerie' (1998), which consists of vast amounts of rubble removed from the neo-classical facade of the Alte Nationalgalerie. While walking on the terrace around the glass hall, visitors can hear the sound piece 'Retrospective' (2022), which highlights Bonvicini's conceptual use of language: a voice recites numerous titles of artworks that Bonvicini has created over three decades. In conjunction with other light, film, and sound works, the exhibition conveys Bonvicini's diversity of media and her central themes of feminism and architecture, as well as the questioning of the role of the institution.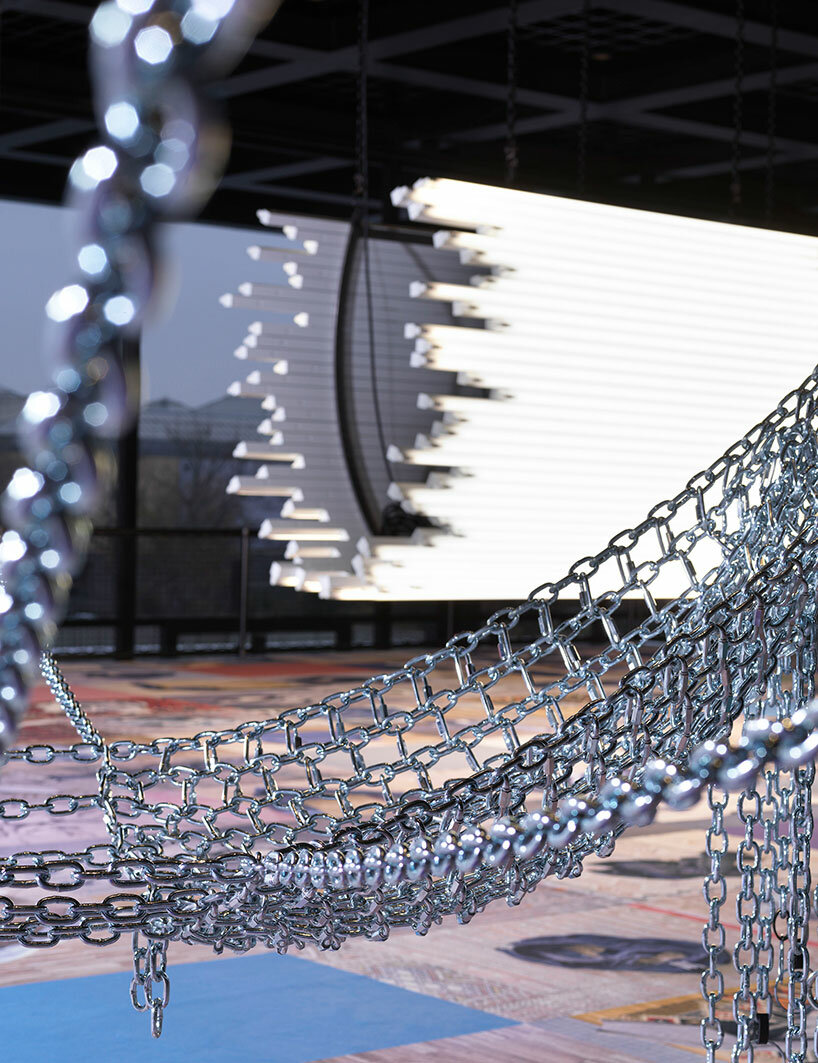 Monica Bonvicini, Light Me Black, 2009, Ausstellungsansicht Neue Nationalgalerie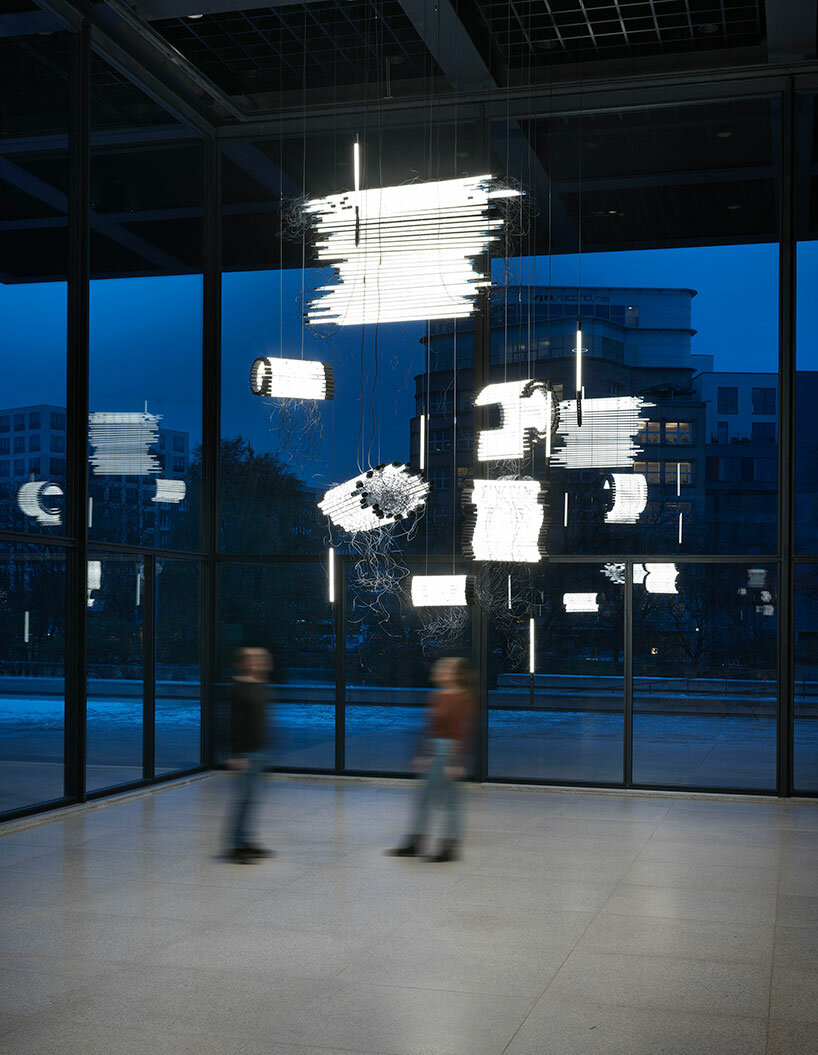 Monica Bonvicini, Lightworks, 2022