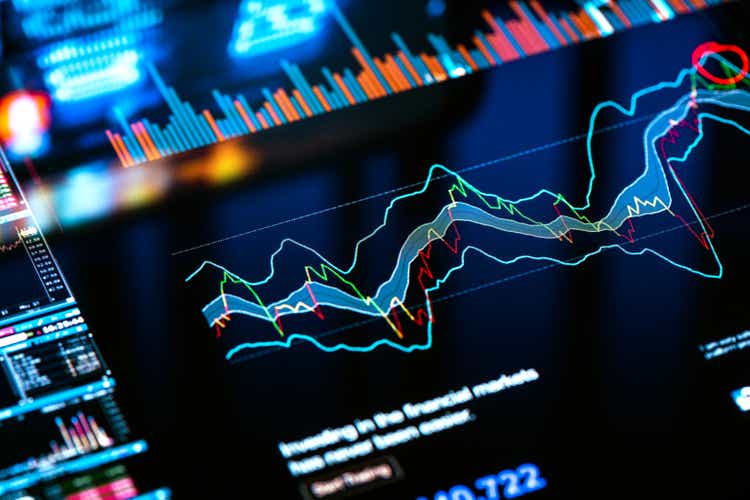 The stock market has moved higher in 2023 with some investors appearing to price in a quick drop in inflation in 2023 or an "immaculate disinflation" scenario that may run counter to the historical precedent. While core goods CPI is seeing rapid disinflation trends, core services is taking longer to roll over and wages growth is still a major concern. Some analysts think investors are in front of their skis with the runup in tech stocks and riskier assets like cryptocurrencies not making sense quite yet.
Jefferies thinks the Federal Reserve's steady flow of rate hikes despite recession draws a comparison to the 1980s when aggressive monetary tightening by Fed Chairman Paul Volcker set off a long period of disinflation. "The 1980s disinflation cycle brought about by higher rates and easing supply side pressures provide a good template for the current cycle," noted the firm. That is consistent with recent comments by Federal Reserve Governor Christopher Waller. "Inflation's not just going to miraculously melt away. It's going to be a slower, harder slog to get inflation down and therefore we have to keep rates higher for longer and not start cutting rates by the end of the year," he warned.
If the disinflation cycle plays out slowly like it did from 1980 to 1983, Jefferies has a game plan for investors. Stocks with high-quality fundamentals from the business services, staples and consumer services outperformed low-quality names during that period and history is seen potentially repeating itself. Jefferies screened for stocks with high profitability based on return on equity and return on invested capital reasonable valuations based on their forward price-earnings ratio, and solid balance sheets with low debt and high cash flow. Stocks making the disinflation picks list included Cisco Systems (CSCO),Walmart (WMT), Merck (MRK), Home Depot (HD), Broadcom (AVGO), Linde (LIN), Boston Scientific (BSX), Altria Group (MO), TJX Companies (TJX), and Ulta Beauty (ULTA).
Bank of America also has it eyes on disinflation trends with current commodities futures trading implying drops across coffee (-26%), cheese (-9.2%), and milk (-9.6%) in the first half of the year, as well as corn (-4%), soybean oil (-3%), and sugar (3%) in the back half of the tear. Crucially, prices on wheat, soybean oil and natural gas prices are also expected to fall in 2023.
Restaurant chains could see a margin boost if their food costs fall faster than menu prices. Cracker Barrel (CBRL), Chipotle (CMG), First Watch Restaurant (FWRG), Portillo's (PTLO), Starbucks (SBUX), and Texas Roadhouse (TXRH) are some of the chains expected to benefit the most from disinflation trends . Things could be trickier for food and beverage companies with PepsiCo (PEP) and Coca-Cola (KO) already reported to be in the line of fire for their pricing actions.
A screen on Seeking Alpha of high-quality, low debt consumer staples stocks delivered some under-the-radar names like RLX Technology (RLX), MamaMancini's Holdings (MMMB), Cal-Maine Foods (CALM), Industrias Bachoco (IBA), and Zevia PBC (ZVIA).

Run your own advanced screen here and come back to add your 2023 disinflation stock picks to the comment stream.