Amsterdam introduces giant underwater garage only for bikes
Amsterdammers are known for their fondness for bicycling and get to just about everything by bike. The benefits are many, ranging from promoting health to protecting the environment. However, there is one drawback: parking. The Dutch capital is known for being flooded with parked bikes, and the demand for bike parking only seems to be growing.
In response to this problem, the city of Amsterdam has completed two new giant bike sheds built underwater. Located near the Central Station, these new parking areas accommodate 11,000 bicycles in total, freeing up a lot of street-level space in the process.

all images courtesy of the Dutch Cycling Embassy
amsterdam's largest parking facility 
After 4 years of construction, the two new stations 'Stationsplein' and 'IJboulevard' are finally ready. Stationsplein is built under the Open Havenfront, the body of water between the Prins Hendrikkade and the so-called Stationseiland, and it opened to the public on January 28, 2023. Currently the largest bicycle parking facility in Amsterdam, it can store up to 7,000 bicycles. The underground parking garage is connected to the Metro Hall and Amsterdam Central Station, so travelers will soon be able to get to and from public transportation dry-footed and without detours. At the back of the Central Station is the IJboulevard bike shed, which has space for 4,000 bikes and is scheduled to open in February 2023.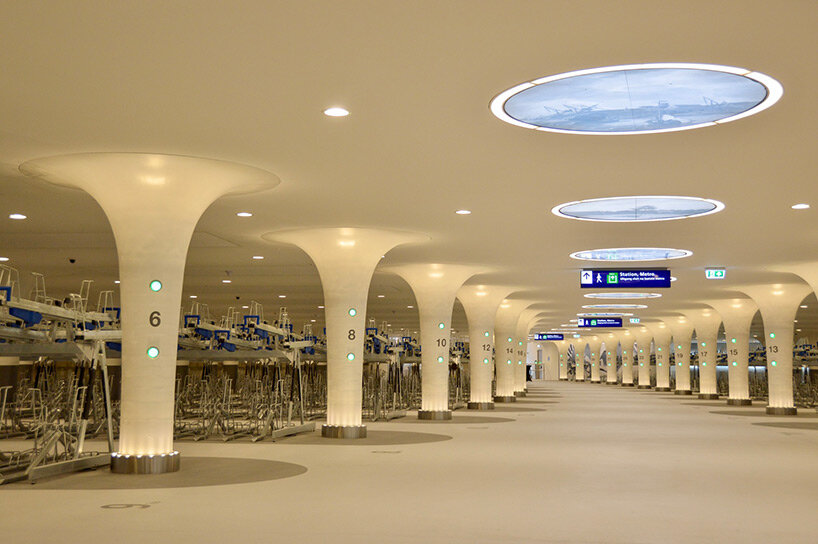 the Stationsplein bike garage is built under the so-called Open Havenfront
freeing up pedestrian space
These new underwater bike sheds are already providing much more open space for pedestrians around the city's main train station. Even in the first few days after the first garage opened, the bike racks have gradually disappeared from the street, and the area now looks tidy, uncluttered, and safe. In addition, since construction was completed, scaffolding and bridges have been replaced, wider pedestrian and bicycle paths have been created, streetcar tracks and stops have been replaced, and numerous underground cables and pipes have been laid.
'The opening of the new parking facilities marks the beginning of a new era, in which Amsterdam Central Station will be somewhat like it was around 1900. Accessible and pleasant, without cars and bicycles parked everywhere and nowhere.' share Amsterdam representatives on the city's official website. 'We are in good shape with the opening of the 2 new bicycle parking facilities, but we expect that there will be a greater need for bicycle parking spaces around the station. That is why we have already started preparations for even more parking spaces for bicycles.'