Aljohara Jeje presents 'a room with seaview' at archifoto 2022
Jeddah-based photographer Aljohara Jeje captures primitive homes produced by illiterate sea salt harvesters in a Saudi Arabian village. Titled 'a Room with Seaview', the series is one of five shortlisted entries for the 2022 edition of the Archifoto competition exploring the theme of 'Architecture and Resources.' Through spotlighting this architecture, the photographs reflect a distinct culture while posing a cynical commentary on the geopolitical challenges of climate change, difficulties of immigrant labor, and methods of building with scarce materials. As such, the structures of 'a Room with Seaview' are made using recycled waste, construction products, and driftwood in unique compositions, expressing the sensibilities of their designers and resourceful innovation.

'a Room with Seaview' | all images by Aljohara Jeje
Spotlighting primitive architecture by sea salt harvesters
Aljohara Jeje's series spotlights structures in a sea-salt-flats village in Saudi Arabia, posing a harsh working and living environment and material scarcity. These homes have been planned, designed, and constructed by migrant sea salt harvesters, which the photographer refers to as 'autodidact architects.' Despite being primitive and basic in form, the individual homes made of recycled driftwood and discarded construction materials express a semblance of distinct personality mirroring their makers' character, tastes, and preferences.
The project's title, 'a Room with Seaview', poses a cynical and critical remark on our contemporary models of living in an increasingly divided world. If further touches upon the harsh social and geographical impacts of climate change that does not discriminate and knows no geopolitical bounds. 'Here at the sea-salt-flats, survival is an art,' notes the photographer. 'Over time, these homes are either abandoned or destroyed as they succumb to nature or human intervention. In the harshest environments our planet harbors to human beings, disregarded carpets once serving soft feet, consumer-waste advertisements, tarpaulins with famous brands, and plastics of any kind function as isolation,' she continues.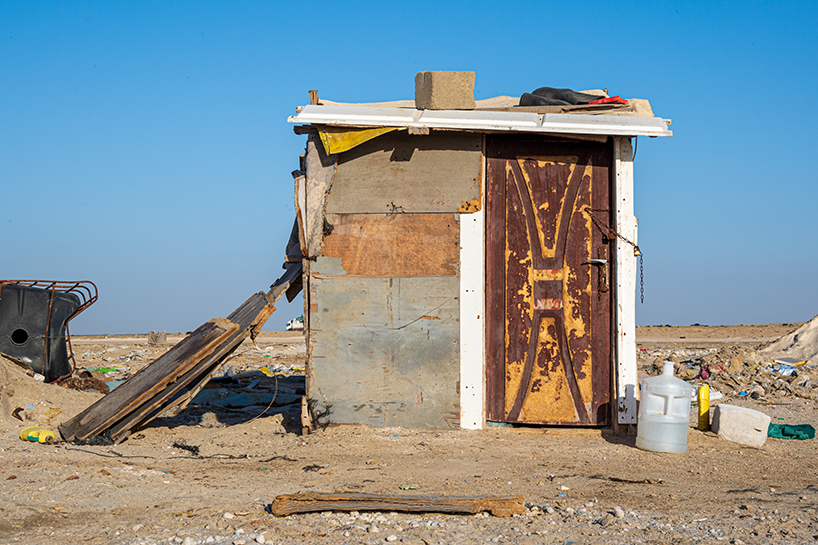 Aljohara Jeje's series spotlights structures located in a sea-salt-flats village in Saudi Arabia
EXPLORING THE THEME 'ARCHITECTURE AND RESOURCES'
The series has been produced for the Archifoto competition, which seeks to enhance links between architecture and photography. For this year's edition, Aljohara Jeje was one of five award-winning artists selected to exhibit in response to the theme 'Architecture and Resources.' 'Architecture is celebrated for recording our cultures and reflecting who we are or want to be. But what it means to represent us all could be grasped properly as a design problem. No other artform showcases more concretely how people live, work, and socialize around the world', explains the photographer. Meanwhile, the question of resources is pressingly a crucial topic today. Increasingly, urban planners and architects are experimenting with ways to build differently, thinking about new practices applicable to the construction and occupation of space.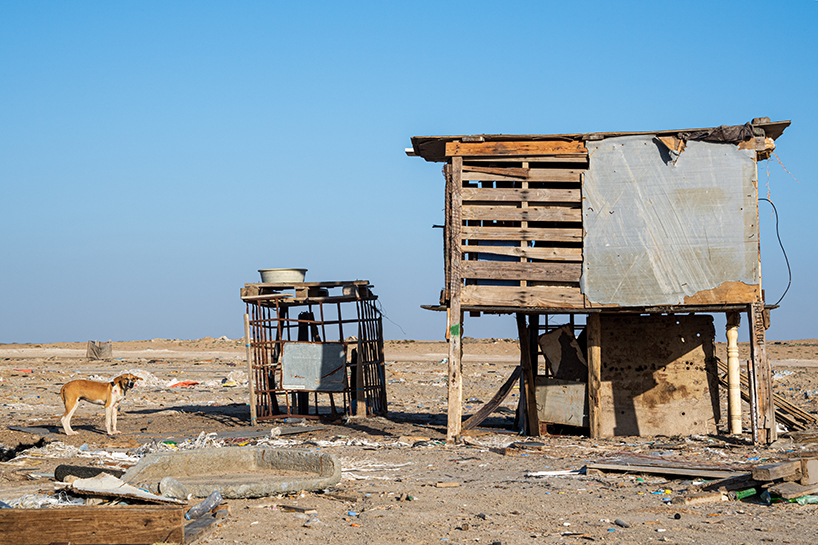 the simplistic structures are made primarily using driftwood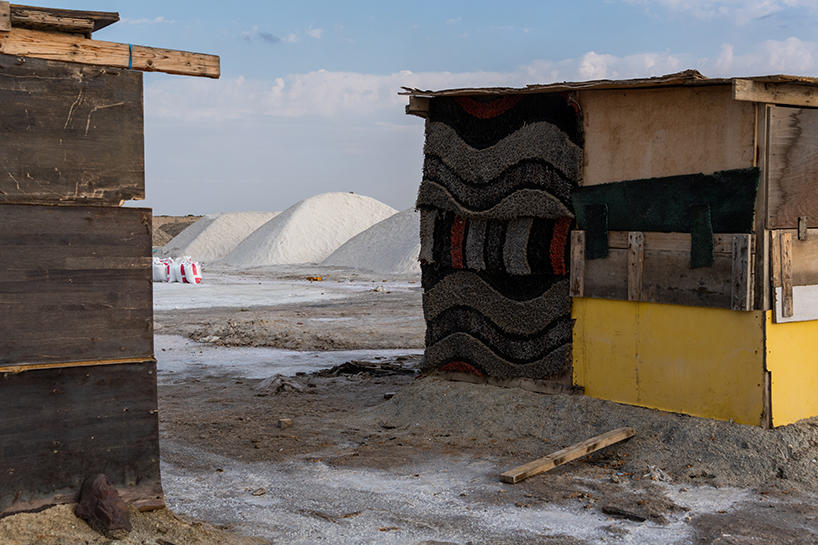 the images explore the theme of 'Architecture and Resources' for Archifoto 2022