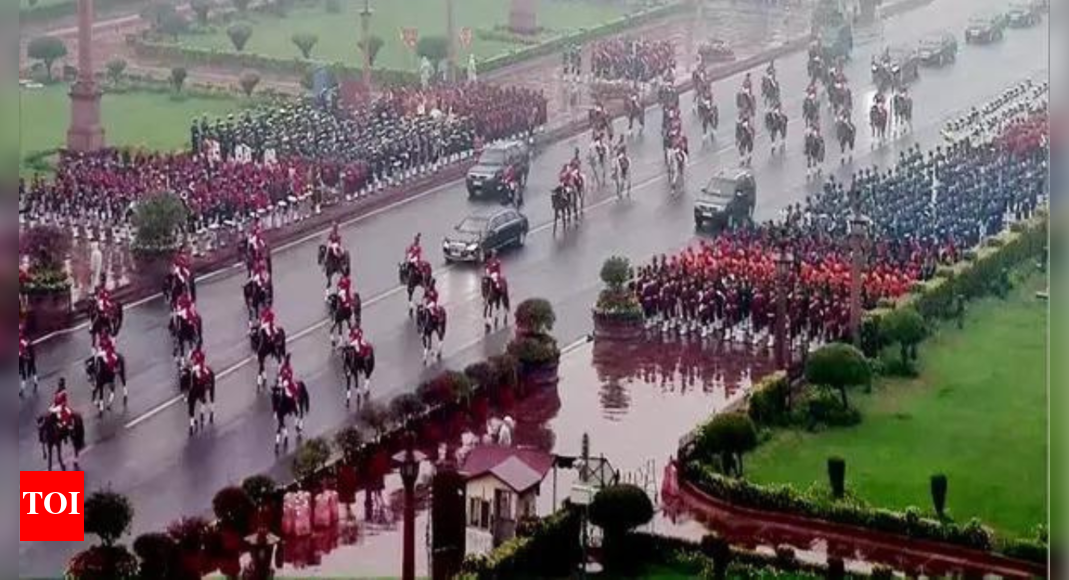 NEW DELHI: 'Beating the
Retreat
' ceremony, which marks the formal end of Republic Day celebrations, was held at Vijay Chowk in the national capital on Sunday as bone-chilling rain failed to dampen spirits.
President Droupadi Murmu, Prime Minister Narendra Modi and defence minister
Rajnath Singh
were present on the occasion.
A total of 29 "foot-tapping Indian tunes based on classical ragas" were played by the music bands of the Army, the Navy, the Air Force and the State Police and Central Armed Police Force (CAPF).
All you need to know about the event:
The ceremony began with the massed band's "Agniveer" tune, followed by enthralling tunes like "Almora", "Kedar Nath", "Sangam Dur", "Queen of Satpura", "Bhagirathi", "Konkan Sundari" by pipes and drums band.
The Indian Air Force's band played "Aprajey Arjun", "Charkha", "Vayu Shakti", "Swadeshi", while fascinating "Ekla Cholo Re", "Hum Taiyyar Hai", and "Jai Bharati".
The Indian Army's band played "Shankhnaad", "Sher-e-Jawan", "Bhupal", "Agranee Bharat", "Young India", "Kadam Kadam Badhaye Ja", "Drummers Call", and "Ae Mere Watan Ke Logon".
The event came to a close with the ever-popular tune "Sare Jahan se Accha".
Mahatma Gandhi's favourite hymn 'Abide with Me' did not figure in the event just like last year, in line with the government's decision to replace all western tunes with swadeshi ones. 'Abide with Me' was retained in 2020 and 2021 at the last moment after a major outcry but replaced with 'Ae Mere Watan ke Logon' last year.
The august ceremony has emerged as an event of national pride when the Colours and Standards are paraded.
The ceremony traces its origins to the early 1950s when Major Roberts of the Indian Army indigenously developed the unique ceremony of display by the massed bands.
"It marks a centuries-old military tradition, when the troops ceased fighting, sheathed their arms and withdrew from the battlefield and returned to the camps at sunset at the sounding of the Retreat," the defence ministry said.
(With inputs from agencies)